When It's Time to Beautify or Update
For commercial properties, creativity with functionality come together for a welcoming yet productive atmosphere. We design and build beautiful landscapes that flow naturally with your property's unique layout and withstand Michigan's challenging climate to look good all year. If you're running a shopping center, a hospital, large campus, or municipal building, you can rely on our creative design, constant communication, and professional installation services as we take your project from the design stage through completion.
In the nearly 40 years our family-owned company has been serving this area, we have won dozens of awards for our design, construction, and maintenance services.
GREEN ROOFS
Green roofs last longer than traditional roofs, reduce heat absorption and energy costs, while improving storm water drainage and air quality.
COURTYARDS
We can transform your building's open space into an attractive, hospitable courtyard as a place to relax, recharge, or collaborate.
HARDSCAPES
Welcoming walkways and patios, and attractive retaining walls are part of a landscape that represents the pride you have in your business.
RECREATION
Outdoor recreation can be an elegant part of your commercial property. From putting greens to basketball courts, give your employees a healthy break and your visitors a great first impression.
LANDSCAPE INSTALLATION
We help you bring out the best in your landscape. We minimize disruption to the site while installing a beautiful and enjoyable landscape.
TREE PLANTING
Trees are important elements of a landscape. We help you select the right trees for the right location, to maximize the beauty and function of your commercial property.
PLANTINGS
From pops of seasonal color to cheerful evergreens, we plant shrubs, ornamental grasses, perennials, and lawns to keep your property looking great all year.
ENTRANCES
We'll apply our award-winning design and landscaping experience to create an attractive entrance that makes any visitor feel welcome at your business.
Team of experts
Award-winning landscape designs and installations don't create themselves. Behind our success, you'll find an experience group of seasoned professionals—designers, hardscapers, landscapers, lawn care specialists, technicians, and project managers—all dedicated to doing their best on each project and for each client.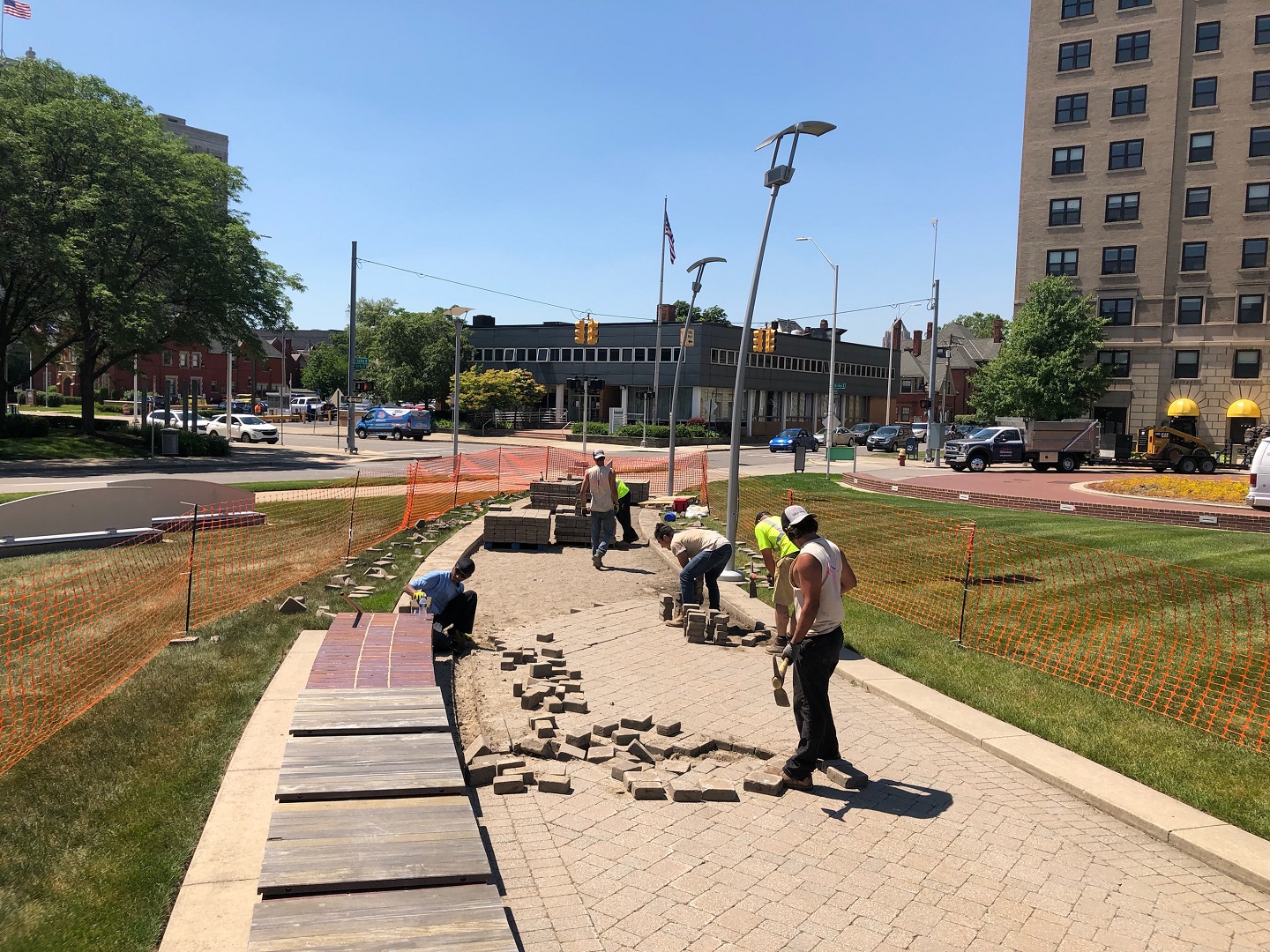 Combine function and creativity
Troy Clogg Landscape Associates calls on decades of experience to provide award-winning landscape design and installation, from landscape renovation to the construction of new features at your property. Paying special attention to your property's unique characteristics, we'll follow your wishes as we develop a plan that works for you, from the initial design through the completion of your project.
In addition to our skilled crew, we have access to a wide variety of plant materials and hardscape supplies to create just what your property needs to enhance its beauty and function. No matter what project we take on for you, you can be assured we'll bring the passion, skill, and professionalism that has made us a top choice of commercial property owners throughout Michigan.
Attention to detail: We always sweat the details, taking care every step of the way to ensure that every part of your experience with Troy Clogg Landscape Associates—from service to final results—is of the highest quality.

Superior equipment: Our professionally maintained equipment is always ready to go, enabling us to guarantee efficient service and timely results.

Professional team: Our experienced and professional team of lawn maintenance experts manage every job quickly and efficiently while nailing the details.

Easy & hassle-free: Leave the professionally manicured and cared for landscape to us. We make it easy with detailed records and flexible billing and scheduling options.
Troy Clogg Landscape Associates has the experience, education, equipment and passion to meet or exceed your expectations. Contact us and we'll discuss your ideas for landscape projects that can add beauty, function, and value to your property.
TRUSTED TO SERVE MICHIGAN'S TOP COMPANIES
Contact Us
Contact us and we'll schedule a free in-home or on-site visit to discuss how we can help you with our award-winning landscaping and snow removal services.